Minneapolis Paper Shredding
Minneapolis Paper Shredding is dedicated to providing cost-effective solutions for offices and homes to destroy their confidential information. We understand the need to protect your sensitive documents with the highest level of security. You also get the best in customer service at a reasonable price. Our goal is to match you with the right shredding solution.
About Minneapolis Paper Shredding
Minneapolis Paper Shredding offers a variety of shredding service levels designed to meet virtually every client's requirements at reasonable prices. Whether you are looking to set up a regular shredding schedule, or if you just have a few boxes of paperwork you need to shred, we will help you get the job done in a secure and efficient manner.
Minneapolis Paper Shredding is your premier source for secure, reliable and quality shredding service options in the Minneapolis metro area. Your security is our priority, and all of our processes comply with Minnesota and federal privacy laws.
We handle jobs ranging in size from one box to warehouses full of paperwork, and our local contractors can stop by as often as you need.

The Benefits of Residential Shredding in Minneapolis
Shredding services are no longer just for large Minneapolis businesses. If you are a homeowner and have several boxes worth of sensitive paperwork to shred, it can be a time saving and economical decision to use a shredding service.
Read more to learn how a shredding service can help keep you and your family's information safe.
To get a free, no obligation quote on document shredding today, fill out the form to the top of the page or give us a call at (612) 392-2390.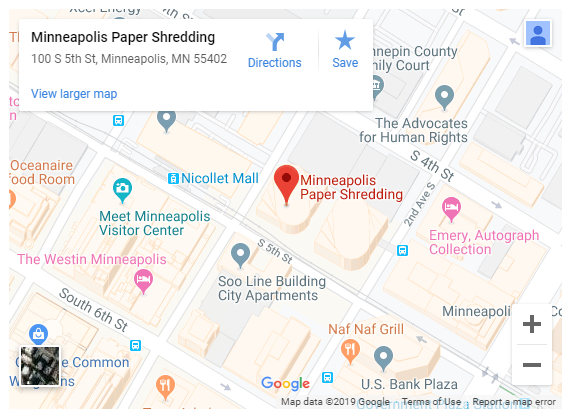 Get Free Quotes on Shredding in Minneapolis
Minneapolis Shredding Services
Service Options Available in Minneapolis
Ongoing Service – Weekly, monthly or quarterly scheduled shredding services are available for those who are constantly accumulating confidential documents. You are given secure bins for you to distribute throughout your Minneapolis office and a driver regularly stops by and shreds the contents.
Purge Service – Annual, one-time, or occasional shredding services are available for homes or organizations that have boxes of documents for shredding but don't want to set up a recurring shredding schedule. Prices are calculated by volume.